What is Syl Search?
Powerful, easy-to-use enterprise search
Syl Search is a powerful enterprise search engine with a responsive web user interface and unique semantic search features. Syl Search can recognise the meaning of your search terms, and search results can include related concepts and contexts that are more relevant to an organisation. Syl Search makes it easier to find vital information quickly.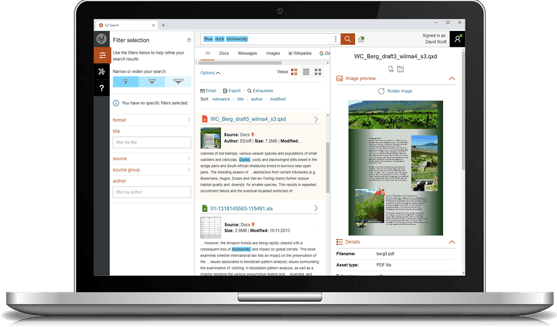 Powerful information architecture integration
The success or failure of any enterprise search solution relies on the ability to efficiently connect to data repositories for information indexing, regardless of locations, file sizes, formats or metadata quality. This can include vastly disparate content source systems and information that could be structured, semi-structured or totally unstructured.
Syl Search integrates seamlessly with a wide range of systems by developing our own content-connecting "agents" and providing specialist, on-site support during implementation, including applying custom metadata to search results where required to deliver structure where the raw information is lacking.
Syl Search agents support dozens of content source systems including enterprise content management systems (CMS), customer relationship management (CRM) systems, Windows and Linux shared network drives, websites, LDAP, Microsoft Office365, Microsoft Exchange email and Lotus Notes, social media and cloud-based file storage, databases and JSON/XML-based data files and many, many more.
Search using your own terms
Syl Search allows you to search in your own custom language terms, industry jargon and acronyms, and even te reo Māori, providing far more relevant and accurate search results than our competitors.
Integrating with existing user experiences
Using our application programming interface (API), Syl Search can also be integrated into your existing application to deliver the power of Syl Search in a seamless user experience.